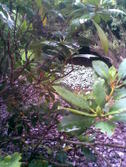 What is the difference between Counselling and Psychotherapy
Psychotherapy and counselling are similar processes, psychotherapy being a longer and more in depth one. Sometimes, in coping with life's early challenges and trauma, unconscious habits or patterns of behaviour have been formed, leading to the development of a character style which is helpful to resolve the early situation, but ultimately blocks progress in life.
How do I choose the right therapist for me
All therapist at The Gables are accredited by and work under the guidelines of their professional associations. A professional, ethical approach is essential for safe and effective therapy. After that the relationship you form with a particular therapist is critical, and it is a good idea to take the time to find the right person that your are comfortable with. We offer a free half hour consultation to assist you with your decision.
What is the benefit of massage and bodywork
Lifes difficulties, and especially trauma, can leave stress, anxiety and a disconnection from our bodies and our emotions. Massage and other bodywork can be a gentle way back into our harmony with ourselves and our feelings. And it is relaxing and enjoyable.